Hi – I am Remmi of Cook Time with Remmi and Sodexo's Student Ambassador for Health and Wellness.
Halloween is coming up and I'm serving up a great Irish traditional dish called "Colcannon." The main ingredient of this dish is cabbage. The tradition is that young Irish girls are sent to the home garden blindfolded Hallow Eve to pick a cabbage. In the preparation of the dish a golden ring is placed. It is believed the young female that is served the ring will be the next to marry in the coming year. Isn't it interesting how traditions are related to food?
Although cabbage is usually associated with Irish cuisine, it's one of the oldest vegetables cultivated and Asia introduced the vegetable to Europe in around 600 B.C. The growing season for cabbage is 3 months, the yield for this crop is quite high, so it's a very economical crop to grow and is an economical produce to cook with.
As a global player in food, Sodexo has considerable influence on the eating habits of more than 50 million people around the world.
To promote health and wellness, we offer solutions by proposing a wholesome, well-balanced diet – it's part of our Better Tomorrow Plan and vegetables are a big part of it! Cabbage is a very versatile veggie and can be eaten raw and prepared by using many different cooking techniques.
A perfect time of year for Colcannon!
The use of cabbage in Colcannon makes for a very unusual dish that is so delicious. It is a very simple dish to make and it combines sautéed cabbage with mashed potatoes. And…I ask you…what kid doesn't like mashed potatoes? Yum!
Cabbage is full of good vitamins and nutrients. This wonderful veggie is a great source of potassium, which is heart healthy and can lower the risk of strokes.
One of the cool things about cabbage is it has NO fat! One little cup of cabbage has 190% of Vitamin C.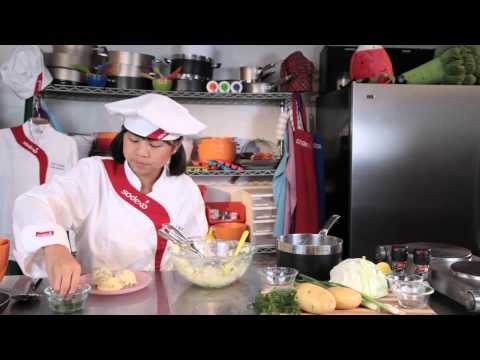 I know we've talked about the Irish and the connection to this sunshine vegetable but did you know Babe Ruth wore a cabbage leaf under hit hat in games? He changed it out every two innings….to stay cool of course! And then there is the Russians who considers cabbage to be their national food consuming more than 7 times than North Americans. And finally…let's give credit to the English, specifically William Collingwood who in 1865 grew the largest cabbage weighing in at 123 pounds and he still holds the record!
I hope you enjoy the Colcannon! Enjoy this fabulous vegetable! Check in with me next month when I share with you my total love for APPLES!
Hugs and Veggies, Remmi
Chef Remmi Smith is Sodexo's Student Ambassador for Health and Nutrition.